Personalized Items
Archivo 2000 is a family Company situated in A Coruña, specialised in manufacturing office items and industrial injected plastic components, we count with a logistic warehouse of more than 2.000 m2 and more than 400 moulds in ownership.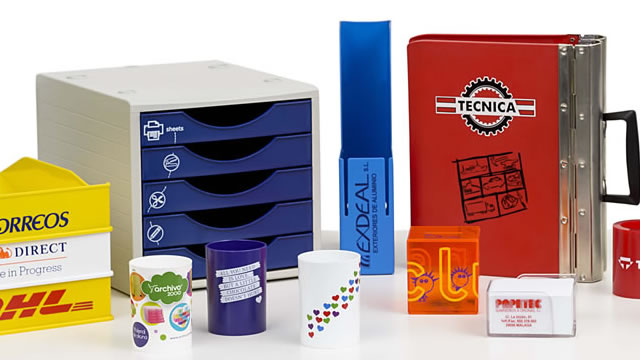 We manufacture all our products in Spain by an injecting and blowing technique with top quality raw materials.
We count with the Manufacturing Quality and Management Certificate ISO 9001 and Environmental Certificate ISO 14001.
We are the leading Company in Spain in manufacturing injected plastic items for office supply.
We offer our customers the best quality and price in all our product range with the maximum flexibility in delivery and manufacturing dates.
We cover all our customers' special requests both in manufacturing and also customising items. All our products are 100%made in Spain.
CONSULTING THE DESIGN AND MANUFACTURING:
You may request more information without any obligation to archivo2000@archivo2000.es
PLASTIC INJECTING

Items are injected with all kind of thermoplastic with several ways of finishing and a great variety of colours.

PACKAGING

We manufacture plastic bottles of up to a capacity of 1 litre in multiple colours and finishes.

BINDERS SECTION

Stamping Press riveters to work the cold sheets combined with the injecting parts give a result of strong and functional binders.

OTHER PROCESSES

Ultrasonic welding, thermo welding, tampo printing, serigraph, hot-foil printing, IML (Injection Moulding Label).
PERSONALIZED ITEMS
Our items can be marked with your Company's logo by means of several personalization methods such as serigraph, tampo printing, hot-foil printing or IML (Injection Moulding Label).
We have identified with several icons those items that can be personalized. In each of them we point out the minimum amount which is necessary to carry out the option chosen.
You have to indicate the minimum quantity which is needed in order to personalize it.
PRODUCT THAT CAN BE PERSONALIZED
Will indicate the minimum amount required to be able to personalize a product.

PERSONALIZATION METHOD
SG: Serigraph – TI: hot-foil printing – TG: Tampo printing – IML (Injection Moulding Label)

SPECIAL COLOURS
You have to indicate the minimum quantity and reference in order to be able to manufacture these items in special colours.

SPECIAL MEASURES
You have to indicate the minimum quantity to be able to manufacture this product in special measures.

MAXIMUM TIME REQUIERED
Will indicate the maximum time recommended for use.

MAXIMUM WEIGHT
Will indicate the maximum weight bearing.
You may be interested: