Archicubo
Practical organisers manufactured by Archivo 2000.
Horizontal or vertical joints

Its innovative system of fastening clips allows the units to be joined horizontally and stacked vertically.

Place them wherever you want

Archicubo organiser modules are ideal for placing inside cupboards, on bookshelves or in drawers.

Everything perfectly organised

It allows comfortable and speedy sorting of all kinds of small office material, such as pens, pencils, markers, notepads, glues, clips, staples etc.

All kinds of possibilities

8 different sorting options: hollow, with dividers (vertical/horizontal) or with different combinations of drawers.

Highly durable

The modules are made of high-quality translucent polystyrene and are available in two colours.

Multiple Uses

Archicubos are practical and useful, not only in the office, but also in the home, in children's study spaces or for organising all kinds of small materials, such as cosmetics, buttons, screws, etc.

SEE MODELS
Infinite possibilities
The fastening clips included allow the creation of organisation modules without limits.

Perfect stacking, both vertically and horizontally, through the use of a fastening clip system which allows the construction of large structures to meet all your needs.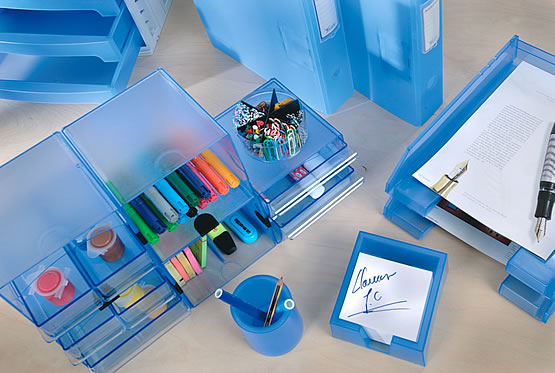 All the options
The Archicubo offers 8 different combination possibilities:

Hollow modules.
Modules with dividers (both vertical and horizontal).
Modules with a variety of potential combinations of removable drawers that can be opened independently.

All reference numbers are available in the colour blue or crystalline with a transparent finishing.
Perfect Classification
A combination of Archicubo organisation modules will allow you to keep small office material in perfect order.