Storage Towers
Practical organisation system with 6 litre drawers, produced by Archivo 2000.
Stackable Modules

Stackable towers of 1 to 6 drawers is possible, simply by placing one module on top of another.

Take them wherever you want!

Models with 4 multi-directional wheels are available, so you can move your tower to wherever you need it.

Fun

You can opt for single-colour modules or a variety of colours. 7 bright and happy translucent colours are waiting for you to combine them however you like.

Extremely Durable

Made of polypropylene copolymer, which allows it to withstand extreme temperatures and provides high durability and sturdiness.

Completely extractable drawers

Drawers that glide open smoothly, with a safety catch to prevent them from falling upon opening.

Antistatic material

Production with an antistatic additive facilitates cleaning as it prevents the accumulation of dust.

SEE MODELS
It goes where you go...
The possibility of simply placing 4 multi-directional wheels on the base allows the creation of mobile carts, facilitating moving and mobility.
The sky is the limit

The extension module Ref.1001A TL, allows the creation of limitless combinations and the placement of 6 litre drawers on top of the storage tower. The structure is crystalline in colour and drawers are available in 6 translucent colours: blue, crystalline, kiwi green, mauve, orange and red.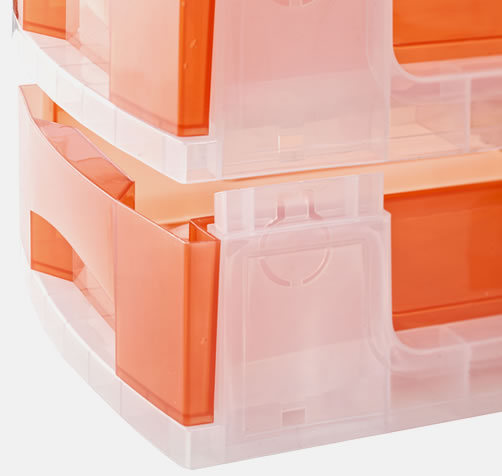 Perfect stacking
The vertical joint system allows the creation of a made-to-measure storage tower with the number of desired drawers, and providing the structure with additional strength.