Magazine Files
Magazine files with an attractive design, especially developed to store catalogues, magazines, flyers etc.
Large capacity

Different models of magazine files with 75 & 80 mm wide spine, providing a high storage capacity for all kinds of documents.

Easy access

All magazine files have a practical thumbhole in the spine making them easy to use.

Complete stability

Its base stands out due to its high level of stability, which allows the maintenance, classification and easy access to all the content, without it falling over.

Variety of Colours

A wide variety of cheerful and fun colours with over ten options with opaque finishes and more than 8 options available in translucent or transparent finishes.

SEE MODELS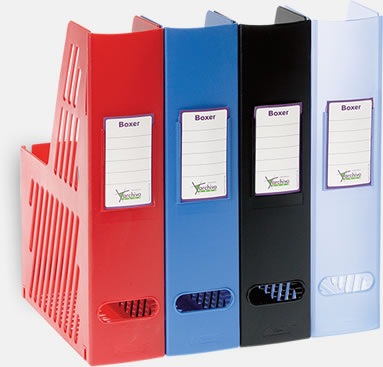 Make your own set
The Magazine File Ref. 2005 with a 75mm spine, includes a label-holder on the spine and practical fastening clips so that you can form a set of organisers, combining the colours according to your taste.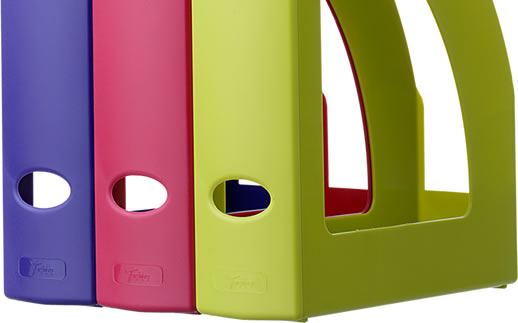 Thumbhole in spine
The thumbhole we've included in the spine of the magazine file allows easy and fast access to all the documents stored inside.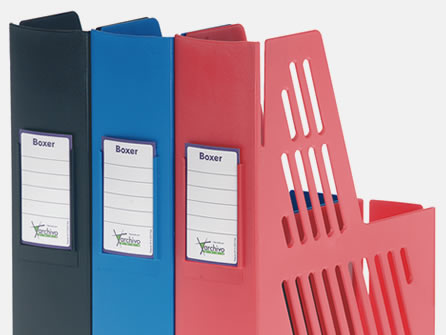 Clear Identification
The magazine file ref. 2005 includes a label-holder on the spine that allows the identification of the content, in order to easily locate the documents within.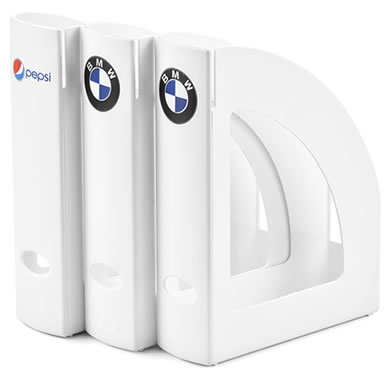 Personalisation
The magazine files can be personalised with your company's logo or any other writing, for orders of over 250 units, using serigraphy or pad-printing.

Moreover, we offer the possibility production in special colours for orders of over 500 units.