ArchivoTec Serie 4000
Stackable modular filing system, appropriate for A4 sheets, 215 x 315mm sheets and subfolders.
Stackable Modules

ArchivoTec modules can be perfectly stacked by simply placing one module on top of the other.

Sliding Drawers

The ArchivoTec4000 modules contain 5 drawers with a safety catch and smooth gliding.

Ideal Size

Drawer modules are ideal for A4 sheets, 215 x 315mm sheets and manila folders.

Variety of Colours

The drawers are available in a wide range of colours, with 9 opaque and 5 translucent colours available.

Durable Casing

Grey casing in opaque models. Translucent Crystalline casing in translucent models.

Spacious Drawers

Internal drawer measurements: 323x234x38mm (depth x width x height).

SEE MODELS
Robust Structure
The solidity of the structure allows the modules to be simply stacked one upon the other, offering the possibility to create a stable construction according to the classification and storage needs.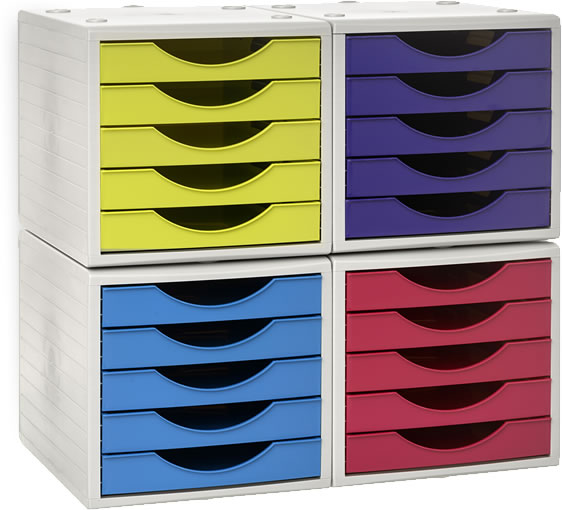 Colours to your Taste
We offer a wide range of colours, both opaque and translucent.

9 Opaque Colours:
Blue, White, Fuchsia, Grey, Kiwi Green, Lagoon Blue, Mauve, Black and Red.

5 Translucent Colours:
Crystalline, Fuchsia, Kiwi Green, Sea Blue, Orange.

We offer the possibility of customising colours for a minimum of 250 units.
Perfect Glide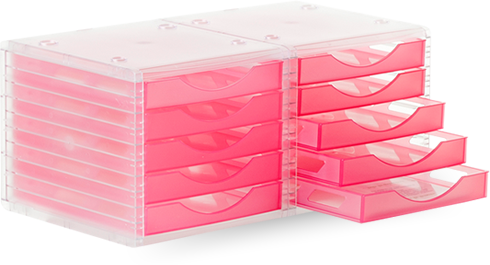 The drawers have a hole in their upper part which allows the drawers to be opened smoothly and documents to be accessed easily.

In order to avoid the drawers falling when opened, a safety catch has been incorporated in each one.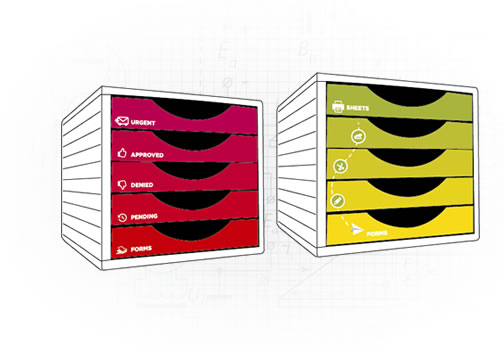 Made to measure... and personalised
The ArchivoTec Serie 4000 can be branded with the logo of your company or any other inscription using serigraphy or pad-printing with a minimum order of 50 units.

ArchivoTec Serie 4000 can also be produced in special colours for a minimum of 250 units.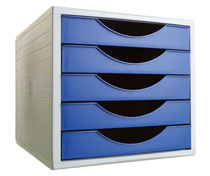 5-drawer module unit
Grey framework
Opaque drawers.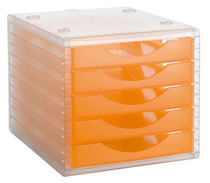 5-drawer modular unit
Cristal clear translucent framework
Translucent drawers